Cowabunga! Dneska se nám doma zas zázračně objevila wi-fi a já už můžu napsat tento dlouho plánovaný článek. A ne jen tento :D. No,dnes tu pro vás mám Mary/Kiss/Kill ke Hře o trůny. Na novou sérii(jen se sedmi díly!!!) musíme čekat ještě rok a tak aspoň nějak tak si to můžu zaplnit.Článek na tento styl jsem už psala,ale s postvami z Once upon a time takže se můžete podívat
sem
. Mary/Kiss/Kill určitě všichni znaj, ale tak kdyby něco: napíšu si 30 postav ze seriálu na papírky a zamícham je. Vždy vyberu 3 u kterých pak rozhodnu jestli se za ni vdám(mary), políbím(kiss) nebo zabiju(kill).
Bacha na spoiler
---
Postavy ze kterých si budu vybírat:
⦁Jorah, Catelyn,Joffrey
⦁Sansa,Tywin,Lysa
⦁Robb,Arya,Daenerys
⦁Cersei,Black fish,Ygritte
⦁Brienne,Mellisandre,Ramsay
⦁Robert Baratheon,Lyana Mormont,Drogo
⦁Jaime,Margaery,Varys
⦁Gilly,Tyrion,Olena
⦁Myrcella,Ohař,Missandei
⦁Staniss,Ned,Baelish
1.Jorah,Catelyn,Joffrey
Tady je jasný kdo umírá,ne? :D Joffrey u mě umře tou nejhorší,nejbolestivější a nejpomalejší smrtí,kterou si může představit. Ten jed,co vypil na svatbě se mu bude zdát jako dar. :D Catelyn taky zrovna nezbožňuju,ale oproti joffreymu je to anděl! A Jorah je moje zlatíčko. Jedna z nejoblíbenějších postav za celej seriál takže je jasný,že s nim jedem na líbánky(who cares,že je tak na 30 let starší xD) a Catelyn bych dala pusu.
2.Sansa,Tywin,Lysa
Lysu a Tywina fakt nesnášim xD Obě jsou to tak otravný a mně odporný postavy...Lysa je divná a trochu hodně mimo, tywin je....Lannister. Fakt nevím koho nesnášim víc :D fakt moc se mi líbily jejich origináln smrti( to zní tak blbě...) Je jasný,že Sansu bych si vzala,ale teď co se těma dvěma? No,něco mi říká,že by svět nevydržel dvě creepy ženský posedlý Petyrem Baelishem takže Lysu bych asi zabila(aby nebyla konkurence,chápete ne :D) no a Tywina bych políbila. To rozhodnutí nebylo lehké!
3.Robb,Arya,Daenerys
No,svoje slova,že tamto rozhodnutí bylo těžké beru zpátky. Tady mám všechny tři postavy,které fakt žeru! Robb je úplně zlato a one and only king in the North, Arya je boss a Dany má draky(to vše vysvětluje). Avšak mám asi ze všeho nejradši zlatíčko Robba a za nic bych ho nedala zabít znovu! Takže s Robbem se vezmeme a já budu Queen in the North dokud mě nezabijou na Krvavé svatbě. Arye bych asi dala pusu a Daenerys(proooomiň) zabila. Nechci aby byla Dany královnou :/
4.Cersei,Blackfish,Ygritte
Uff,tady je to jasný jak facka :D Cersei shoří na wildfire a bude klid! Dál tu jsou dvě super postavy, které fakt žeru! Blackfish je nehorázný borec. Dědu jako Bryndena by chtěl každý! Fakt nemusim rod Tully-Edmure je otravný zbabělec, Catelyn mě vždy štvala nenávistí k Jonovi a Baelishovi a Lysa je prostě Lysa,ale jejich strejda-u toho by se měli ledacos ponaučit! Fajn, s Blackfishem máme svatbu a Ygritte dostane pusu na čelo.
5.Brienne,Melisandre,Ramsay
Brienne,Brienne,Brienne :D Tahle ženská je prostě best badass! Vezmu ji Jamiemu a Tormundovi :D Fakt je to borec! Pak jsou tu dvě postavy, které nemůžu vystát. Fakt ne. Melisandre nenávidím za Shireen, tu holčičku jsem měla hrozně ráda. No a Ramsay je Ramsy-Osha,Rickon a to,co udělal Sanse...Ale je asi určit lepší zabít Ramseyho,protože u toho nikdy nevíš,co ho napadne :D
6.Robert, Lyanna Mormont, Drogo
Robert pádí hned :D Sorry kámo ale fakt ne. Pak tu jsou dvě úplně dokonalé postavy. Drogo a Lyanna Mormont. Oba hrozně žeru a moc chci Droga zpátky-1.série,jako fakt? Drogo se mi zdál jako super manžel takže why not? Ach,my moon and stars, the blood of my blood. Lyanna dostane pusu na tvář :D
7.Jamie,Margaery,Varys
Ou,tohle trio je taky něco. U všech vlastně ani nevim jestli je mám nebo nemám ráda. Jamie mě hrozně štval, pak byl super a pak zase štval. Margaery u mě nikdy moc nevyvolávaly nějaké emoce až na 6.sérii a Varys je taky 50/50. Jamieho nemůžu zabít, protože se přece jen něco polepšil. Margaery nemůžu zabít, protože v S6 byla bezvadná. Takže pápa Pavouku. Být Lannister se mi moc nechce a margaery má super babču takže je to jasný :D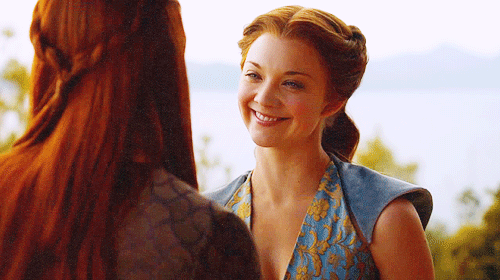 8.Gilly, Tyrion, Olena
Beru si Olenu! jasný jak facka, protože prostě Olena je boss(je problém že už jsem si zabrala její vnučku?)! Za jejich spolčení s Baelishem ji miluju, děkuji ti ooooo smrtelný jede,který zabil Joffreyho. Pak ale nechci zabíjet ani Gilly ani Tyriona :/ Gilly je hrozně cute a snad nejpozitivnější postava seriálu a Tyrion je... Tyrion :D Já prostě nedokážu zabít jednoho z nich! Kdo bude podporovat Sama a Daenerys???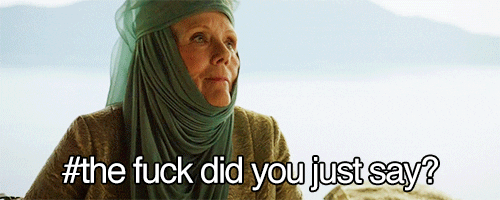 9.Myrcella,Ohař,Missandei
Myrcelly mi bylo hrozně líto, když jí ty Dornovský bitchky zabilily. Ona sice je Lannister,ale ne jako ostatní. Ona za nic nemohla a byla prostě tak světlá a nevinná! Je mi ji prostě líto! Missandei je skvělá přítelkyně pro Dany a úplně žeru jejich friendship. No a Ohaře jsem kdysi nesnášela a teď jsem k němu tak trochu ztratila zájem. Teď čtu knížku a nedávno jsem minula moment z první série kdy zabil Mycaha. Bylo mi ho hrozně líto a stejně jako Arya jsem Clegana nesnášela! Cledan půjde do hrobečku, Missandei do šatů a Myrcelle dám pusu(tenhle článek je nějak moc non-hetero)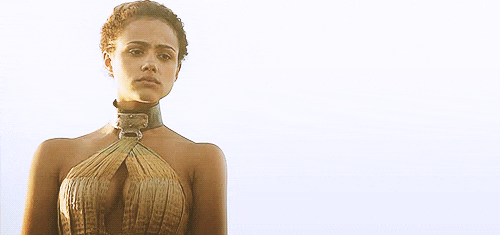 10.Staniss,Ned,Baelish
Myslím,že jestli jste četli článek
zde
a
zde
Go Baelish! :D Vlastně celý tohle je jasný. Neda všichni milujeme a Staniss je podle mě nejodpornější postava celé série. Je mi nechutnější jak Joffrey nebo Ramsay a fakt ho nenávidim. Díky Brienne, která ho ukončila. I když bych byla radši něčemu horšímu, něco jako to co udělal Shireen. Svině jedna.